| | | |
| --- | --- | --- |
| | Our Portfolio below shows a diversity of designs that come from us and through us. We work with your ideas to manifest them in a way that represents the heart and soul of what you are doing. Ultimately, your dreams are the designer, we are just the vessels who assist. We also offer custom build WordPress themes that are exclusive to sites hosted with The Web Elves. | |
View a Portfolio of Some of Our Sites…
top

WORDPRESS

: We all like the option to have a completely unique site of our choosing, and the powerfuls tools of WordPress have redefined ease and greater ability. We take WordPress themes and redo the code to create orginal designs with all the plugins and accessories of WordPress that automatically update themselves. Click on the sites below to see how they differ, and note, every site below is running on the Same WordPress Theme that we redesigned exclusively for clients hosted at The Web Elves to meet the needs and the desires at hand…

| | | | |
| --- | --- | --- | --- |
| UNIQUE STYLE | CONTENT RICH | PLEASANT | DRAMATIC |

EFFECTIVE
top

CHARTS & CALENDARS

: allow you post events and create timelines get feedback…
top

COLORS

: make anything come alive…
top

FORMS

: will receive online input that can be e-mailed directly to you and stored in a data base…

top

GALLERIES

: serve for posting art, photographs and more…
top

IMAGE PROCESSING

: give you enhanced banners, adorned pages, active links and more…
top

NAVIGATION

: can be customized to suite your needs…

| | | |
| --- | --- | --- |
| LEFT NAV. | TOP NAV. | RIGHT NAV. |

top

RSS FEEDS

: You can can also have live RSS Feeds displayed on your site, and you can even generate
your own RSS Feeds for others to view and display on their sites and networks…
top

SIMPLE SITES

: offer you a brochure-styles presence on the Web…
top

STANDARDIZED SITES

: are variations of theme and complimentary themes that give your sites recoginition…
top

TEXTURES

: of all kinds are possible through the magic if imaging…

WOOD

METAL

STONE
Social Networking!
We can set you up on various social networking sites and integrate functions.
You can connect your site and your blog to your FaceBook account,
integrate your Twitter posts to Facebook, MySpace, and your site, and much more…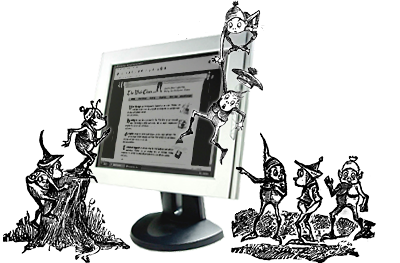 The Busy Elves are Ready to Work Their Magic for You!
Contact us to discuss your plans. We will make them happen with you!